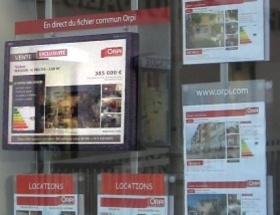 Vitrilia, a digital display total solutions provider, specializes in display services to real estate agencies.  The company looked for a small, robust, and energy-efficient computer which would obtain the latest real estate information via an internet connection to display at each real estate agency branch.
It was also important that the computer be low maintenance because technical interventions at each branch location would have been costly.  Finally, Vitrilia wanted a small size computer that would be easy to ship as well as discrete.
After considering a number of options, Vitrilia selected Linutop 2 because it is small, robust, low maintenance, and energy-efficient.  Also, Vitrilia realized that in the long run, the Linutop would be cost efficient because it is built for high security with a re-set feature that eliminated the need for on-site technical intervention.
Another differentiating factor with Linutop was that the initial set-up settings could be easily replicated across Linutops using a USB key, making deployment across multiple units easy.
Today, nearly 1000 Linutop 2 are used in many real estate agencies as part of Vitrilia's service offering.  With Vitrilia's service, powered by Linutop, real estate agencies such as Orpi can display up-to-date, tailored real estate ads in a dynamic fashion with maximum security, low energy consumption, and low maintenance.
At last, a cost-effective solution was found!
For more information about Vitrilia, visit www.vitrilia.com.