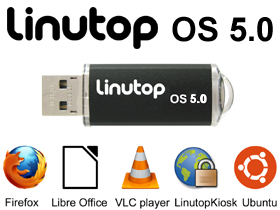 Linutop announced today the latest version of its Operating System 5.0 for PC
This version, based on an lightweight (500 to 700 Mo) and optimized version of Ubuntu XFCE includes the new Linutop's kiosk software, which simplifies the set up of a secured Internet kiosk or digital signage display.
It also support most of the PCs : resuscitate your old PC with a Linutop OS 5.0 USB key or in installing Linutop OS on a hard drive or flash memory!
Linutop OS 5.0 main features:
- Linutop Lock Security The system can be locked into read only mode, preventing alterations by viruses or other mishaps. Its ability to recover its initial state at each startup also minimizes maintenance costs.
- Internet Kiosk Allows professionals (Internet cafes, hotels…) to configure their homepages in full screen with toolbar or not, to block certain websites or to lock designated websites.
- Display Kiosk Allows professionals to easily (with drag n drop) configure playlist including time and order and support JPEG, URLs, folders and video files.
Linutop OS 5.0 new features :
- An OS based now on Ubuntu XFCE
- New software pre-installed (Mirage, gpaint)
- An update of the main Linux software (VLC, Firefox, Libre Office)
- An update of the Linux drivers
All the mini PC Linutop come pre-installed with the new OS.
Try it => free demo for PC download.
Existing customers can also upgrade using this USB key.
For more information about Linutop's operating system, click here.
Linutop OS 5.0 online installation is only 79 euros