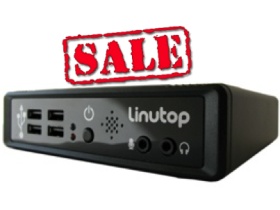 Our clients smallest but also prefered model : Linutop 2 is in the sales for a limited time : 220€ (instead of 280€ – nearly 30% discount). buy ff14 gil Take the most of it !

Specifications
Software
Linutop OS4 and applications Pre-loaded on flash (600MB)
Processor
AMD Geode LX800 (x86) 500Mhz
Weight
580 gr (20 oz)
Size
14 x 14 x 3.5 cm (5.5×5.5×1.38 in)
Power
< 8W / 12V – 3,3A AC adapter 110-240V~ 50/60Hz
RAM
512 MB expandable up to 1GB
Storage
1 GB Flash Memory (Internal)
Network
10/100baseT Ethernet (RJ-45)
PXE Boot
Thin client use
Audio
1 in & 2 out 3mm speaker
Video
VGA output (SUB-D15) Resolution 1920×1440 max 2D Graphic Acceleration
Extension
4x USB 2.0 ports
Anti-theft
Kensington Security Slot
Miscs
Internal clock backup Power on button.

Par Dmitri Popov (*)

Les polices c'est un peu comme les bonbons : vous n'en avez jamais assez. Ainsi, si vous êtes fatigué des polices fournies avec votre système, voici sélection de quelques polices en licence Open Source qui méritent l'attention.

Les « Liberation fonts » sont conçues pour se substituer aux polices largement diffusées comme Times New Roman, Arial, Helvetica, Courier New, etc …, mais présentant le défaut d'être sous licence propriétaires. Le pack « Liberation fonts » se compose de trois ensembles : Sans (un substitut à Arial, Albany, et Helvetica), Serif (un substitut à Times New Roman) et Mono (un substitut à Courier New, Cumberland, et de Courrier).