"Mail Merge" and "easy to use" are not the words you often see in the same sentence. While you can use the Mail Merge feature in OpenOffice.org to perform rather advanced mail merge operations, it can also be rather difficult to get to grips with and cumbersome to use. Fortunately, the FastMailMerge extension can help you to run simple mail merges with minimum effort.
Once the extension is installed, it adds a separate toolbar in Calc containing the FastMailMerge button. Before you press the button, though, make sure you have your mail merge data in an OpenOffice.org Calc spreadsheet, as this is the only data source FastMailMerge can use. Open the spreadsheet containing the mail merge data, select the desired data range, and press the FastMailMerge button.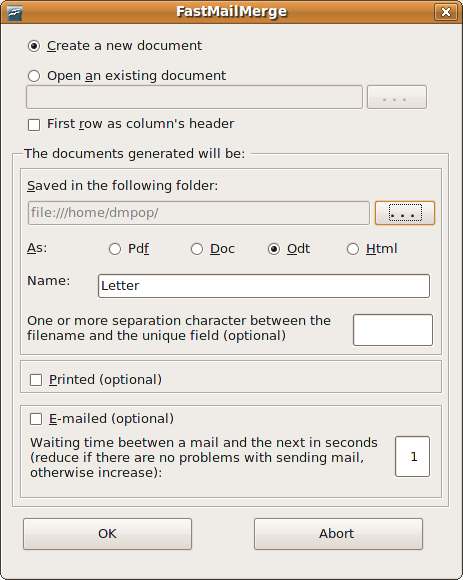 This opens the FastMailMerge dialog window where you have to configure mail merge settings. You can create a new Writer document for mail merge from scratch (the Create a new document option) or select the existing one (the Open an existing document option). You also have to specify a directory for saving merged documents and select the desired format (you can choose between PDF, Microsoft Word, ODT, or HTML). Enter then a name for the merged files, and press the OK button to perform the mail merge operation.