Tutorials/ChangeWallpaper
From LinutopWiki
Change your wallpaper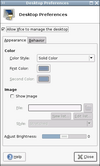 By default, the Linutop only uses a color as background as it improves the boot time, but you can easily set one.
Open the Desktop item of the Settings manager in the Settings category of the Application menu. You will be shown the configuration dialog that is displayed on this screenshot.
This dialog has two tabs: the first one allows you to configure the look of your desktop's background and the second one to tweak various settings such as the icons displayed and the behaviour of menus.
To set a wallpaper, you need to use the Image item of the first tab: the Show image check box needs to be checked and you can set the wallpaper either by using the select dialog launched by the folder icon beside the File field, or by drag and dropping an image to the File field.
You can also select a list of images through which the desktop manager will cycle from time to time. Use the New list... button to create such a list and the Edit list... button to modify it.
It is also possible to set the display of the wallpaper using the Style combo box.