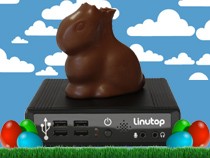 Paris, April 8th, 2012, 00.00am (Just in Time)
Happy Easter !!
Felices Pascuas !!
Frohe Ostern !!
Joyeuses Pâques !!
Onnellista Uutta Vuotta !!
Vrolijk Pasen !!
God påske !!
Buona Pasqua !!
Glad Påsk !!


So, What's New??
- Linutop OS & Linutop Kiosk For Digital Signage Or Secure Internet Access. Try it on your own PC!
- Linutop Kiosk for digital Signage and Secure internet access for public location
- Coming soon : New Digital Signage Service : Linutop TV


Save the chocolate for the penguin ??: use energy efficient computing solutions!


Linutop Team is wishing you a Happy Easter 2012!