Multi screens network display:
Having a multi screens network display is great for your communication, but it can become really hard and fastidious to manage if you have to switch playlists on each one of your players. Linutop developped Linutop TV a solution to help you managing all your screens at the same time with a simple web interface.
Light, easy and quick to set-up, this solution is available in two differents modes :
- Cloud / SaaS : maximum flexibility.
- Local / On premise : maximum privacy.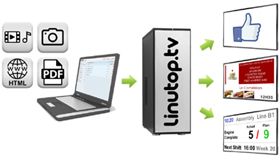 Multi screens network display solutions with LinutopTV

Linutop Kiosk Digital signage Software allows professionals using Linutop mini PCs to communicate more quickly. The system can work 24/7 and makes it easy to have a quality communication medium. Configuration is very simple and these mini PCs run silently. Linutops are the ideal tools for on site advertising. Thanks to their small footprint, they can be installed in shops, restaurants, hotels, museums or public transport. As digital signage support they have several functionalities, it is for example possible to set the display time of each file: photos, videos, web page...

Moreover the Linutop Kiosk Software is available for PC and Raspberry Pi. A free version is downloadable.

Linutop mini computers have other advantages. Since they are fanless, they are totally quiet and consume very few energy. Indeed, Linutops need 10 times less energy than ordinary PCs to operate and are an ideal choice for professionals intending to use them all day. They can also turn into web kiosks within a few clicks thanks to Linutop Kiosk software, the Digital signage software.