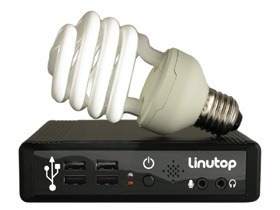 Big energy saver, Linutop is a green computer
Power saver:
Linutop is made with the latest and greatest technology allowing maximum energy saving. With less than 8 watts (linutop 2) of power consumption it is one of the most energy efficient on the market.
Lightweight 580 gr (20 oz) and small linutop has a low energy footprint for it shipping.
Sustainable development:
No mobile parts, no weak parts, ability to lock the software in one state, will increase linutop life cycle and reduce its maintenance cost. Its low number of parts and small size will ultimately make it easier to recycle.