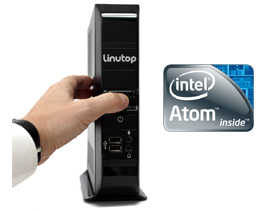 We're happy to announce the new version of Linutop 3 : more powerful, while requiring less enery consumption (<16w), thanks to its new Atom based N270 processor.
Linutop 3 is :
fanless with no moving part
energy efficient,
robust,
maintenance free,
which is a great advantage over other solutions.
The new Linutop 3 is powered by Linutop OS 4 , lightweight and optimized Ubuntu Gnome distribution including internet and display kiosks for professional uses available for download or on a USB key . It boots up around 25 s after bios when installed on the flash card.
The brochure and the quick userguide (pdf) have been updated.
The new Linutop 3 Atom is available on Linutop Shop for the same attractive price  : 340€  w/VAT