Share your Digital Signage with a QR Code:
What is a QR code?
QR Code stands for « Quick Response Code ». It look like square image like a barcode, but in two dementions it contains text; often an Internet link; readable by camera. Easy to use, it allows you to share your digital signage on a mobile device such as Smartphone or tablet.
How does a QR Code work?
QR Codes are a link readable by the camera of a Smartphone or a tablet which after your validation is opened in your web browser.
Dynamics QR Codes can be changed even after they have been printed. This means that it is possible to change the function and content of a dynamic QR code at any time, as often as you like.
How to share your Digital Signage with a QR Code?
Today, there are many generators that allow you to share your Digital Signage with a QR Code or any other types of content (URL, Text, business card, email, geolocation, Wi-Fi network, security instructions, live and mobile pages).
Digital Signage remains a very specific type of content. Linutop TV offers you the possibility to share your Digital Signage with a secure and confidential QR Code via your private network.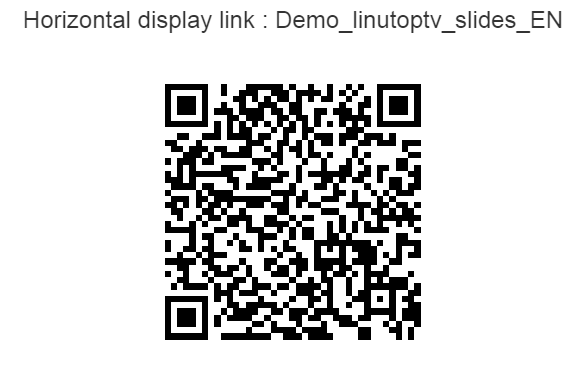 Share your Digital Signage with a QR Code benefits :

• Dematerialization of documents by replacing the use of paper : Allows immediate document sharing with a single click. Avoid paper waste.
• Interactive Digital Signage : Allows sharing in automatic or vertical mode allowing documents to be read at their own pace in a mobile Digital Signage.
• Quick access to information : Allows people exposed to your communication or advertisement to access a page with much more information with just one click.
• Easy access to a download : Allows users to download a document in just one flash if you link a download URL to your QR code.
• Security : Minimizes physical contact and avoids the transmission of viruses.
Example of how to share your Digital Signage with a QR Code:

• Restaurant menu.
• Catalog price list.
• List of photos of works for a museum.
• Safety information on a production site.


The linutop TV allows the use QR Codes on a local network or the Internet, allowing better confidentiality.

Try Linutop TVfor free.