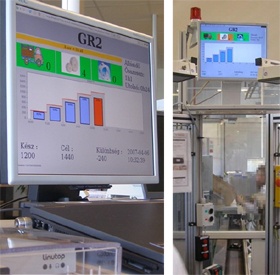 Bosch, an international technology company, came to us with the need for a display solution in a factory in Eastern Europe. To optimize production, Bosch wanted to display the state of each production line so that their workers can anticipate and detect any interruption or abnormality. Their requirements were maximum reliability, even in the case of a power outage, and minimal power consumption.
After evaluating a number of options, Bosch chose to implement Linutop 2 with its mounting brackets, discretely mounted on the back of VGA monitors. Linutop Operating System was configured with a small script that displayed an HTML web page from the company's production server. This allowed anyone on the factory floor to monitor the production line with a quick glimpse, decreasing production downtime while using minimal energy.
In addition to meeting Bosch's original requirements, Linutop's secure operating system that can be set to a read-only mode and have the fall-back of its reboot feature gave Bosch the peace of mind that it was looking for. Finally, Linutop's light operating system that can be saved on a USB key made it easy for Bosch to replicate the same configuration on numerous PCs throughout its factory and backup simultaneously.