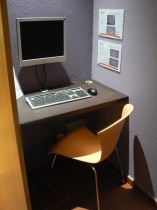 Accor, the European leader in the hotel industry, needed a low maintenance internet kiosk solution for their Orfea hotel lobbies. They looked into Linutop because they realized that with a standard PC, there would still be a need for technical intervention in case of computer crashes and virus attacks, as well as the need to guard against security threats with an anti-virus software which itself would need to be maintained.
When they approached Linutop, they found that the Linutop 2 required very little maintenance because of its secure operating system which could be set to a read-only mode and also be rebooted to its default settings, erasing any prior alterations. Also, Linutop's light operating system that can be saved on a USB key enabled them to replicate the same configuration in numerous hotel lobbies and backup the default settings at the same time.
Using Linutop 2, Accor was able to implement an internet kiosk solution without requiring on-site IT help. The fact that Linutop 2 is fanless, small, and can be mounted on the back of a computer screen with its mounting bracket allowed Accor to have internet kiosks that were discrete as well.
Later on, after Linutop released Linutop 3, Accor decided to purchase the newer model, which runs on the same operating system as Linutop 2, to replace the older model for their internet kiosks. They chose to reuse Linutop 2 as the digital display solution, presenting their breakfast and lunch menus, as well as weather and traffic information.
For a comparison of Linutop 2 and 3, click here.