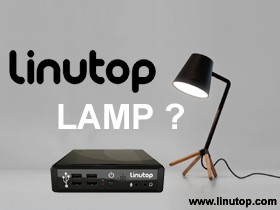 Paris, February 29th, 2012, 11.45am

New Linutop OS 4.0 allows a Lamp Server installation in one click to host a web site.
Linutop Lamp Server can be used as a mini web server, in order to keep personal data in-house.
Linutop LAMP server:
LAMP stands for Linux, Apache, MySQL and PHP. This open source software combination is designed to host a web site.
In just one click your web site is ready to go on your local network, accessible from any web browser: PC, Tablet, smart phone…
Linutop LAMP server Key Benefits are:
- Quick installation (one click)
- Energy efficient Sever (8W on Linutop2) ideal for 24/24, 7/7 uses, designed for minimal processing power.
- Small, Silent (fanless) and robust.
Linutop mini PCs are ideal for mini web LAMP servers; it allows customers to securely share information with minimal maintenance costs. With Linutop OS a LAMP server can even run on a PC from a USB key!
Linutop OS Free Demo is available here! (compatible with PCs).