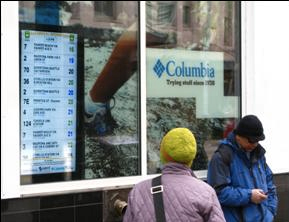 Seattle, 04 November, 14.00pm
Seattle's Third Avenue bus stops are among the busiest in the region: one bus stop may serve up to 15 bus lines and can average up to 4000 boardings on a typical weekday.
In order to provide users with a better service, Seattle DOT is deploying a variety of real time transit information around the city.
Local businesses and organizations on Third Avenue have contributed in making the deployment of Linutop systems very simple by hosting the power efficient PCs along with the 40" LCD monitors in their windows.
Click here for the complete Seattle DOT article.
Linutop OS demo available below, allows you to create very easily a Digital Signage solution thanks to "Linutop Kiosk" software.