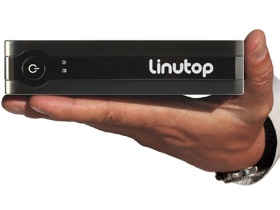 We're happy to announce the new Linutop 5, Smaller, silent, energy efficient:
Perfect for secure Intenet acess or silent desktop.
Silent (fanless )with no moving part
Small ans light (602g 1.3lb)
Energy efficient (<14w)
Cost Efficient maintenance free with linutop lock.
Can be mounted on the back of a  screen (VESA)
Room for 2"5 SATA internal hard disk with HD KIT
The new Linutop 5 is powered by Linutop OS 5 , lightweight and optimized Ubuntu distribution 12.04 LTS including Internet and display kiosks for professional uses available for download or on a USB key .
Boot time below 46 s.
The brochure and the quick userguide (pdf) .
The new Linutop 5 is available on Linutop Shop