The most efficient Linutop Pc.
Energy saving : 14W
Small weight and size : 936g (1 lb)
Robust : use 24h/7d
Ready-to-use : Optimized software on flash
For advanced use :
Internet Kiosk, Digital signage, Desktop,
Thin client, VNC, RDP,...
Specifications
Software
Linutop OS and applications pre-loaded on flash (700MB)
Try Linutop OS on your PC now!
Processor
Intel ATOM N270 1.6 GHz Fanless (x86)
RAM
1GB expandable up to 2GB DDR2
Storage
2 GB Flash Memory (Internal)
Network
Giga Lan Ethernet (RJ-45)
PXE Boot
Thin client use
Video
VGA + DVI Output - GMA950
Resolution 1920x1440 max
3D Graphic Acceleration
Audio
1 In & 2 Out 3mm
Extensions
5x USB 2.0 ports
internal
2 Sata / 1 Bay 2,5'', 1 PCIe, 2 COM ports

Size
18.2 x 20.1 x 3.6 cm (7.1x7.9x1.4 in)
Weight
936g (2 lb)
Power
12V – 3,3A
AC adapter 110-240V~ 50/60Hz
Consumption
< 14W
Miscs
Strong metal case
Monitor mounting bracket (in option)
Warranty
1 year (expandable up to 3 years)
Read more:

Data Sheet

Quick User Guide


Front



Back
Processing power ATOM - 1.6 GHz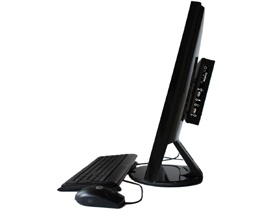 Linutop placed on the back of a flat panel,
with the monitor mounting bracket accessory.


Linutop 4 is replaced by Linutop 5